Holidays are the busiest travel time of the year with car trips – whether it's to Grandma's house or to meet up with friends. If you are like 75% of people, you plan to bring your dog with you for the holidays. But, like humans, dogs can get antsy and bored in the car. So, in between last-minute packing and making drool-worthy snacks for the trip, make sure to check out the tips below so your pup can have an enjoyable ride, as well.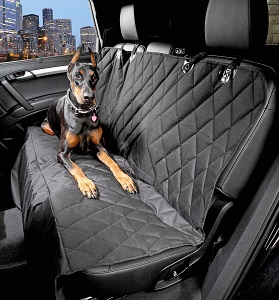 Work on a new trick. While the car may seem like a distracting place to learn commands, what with all the new sights whizzing past, it is actually the perfect place to teach your dog something new. If you're a passenger in the car, get ready to teach your dog new tricks!
Pack Toys. Most dogs have a favorite dog toy, so make sure you pack your dog's on your next road trip. This will help him feel comfortable if he's not used to riding in the car, as well as give him something to chew. But bring something new and exciting, as well. Buy a fun new toy your dog hasn't seen before – this will keep him entertained for sure.
Bring treats. Of course you're going to bring treats for your dog (or I would hope so, at least – that would be mean to bring food for yourself and not for him). But up the ante and make your dog work for them. Look for toys that have spots to put treats and give him something special to enjoy, like a Kong full of peanut butter or a toy from which it takes effort to get the treats – it'll keep him both happy and entertained!
Take a break. Make sure you stop for breaks along the way. It is recommended that you stop for a break with your pup every two hours. Find a rest area that has a grassy space for your dog to go to the bathroom, drink some water (make sure you pack a collapsible dog bowl), and run around for a little bit. A park or an open field would be great places to stop, as well.
No matter where you're going, whether your car ride is two hours or ten, if you're bringing your dog, make sure you're prepared. Bring his dog barrier, some toys, and a few treats and you'll be good to go!