Halloween is just around the corner and everyone is gearing up for a fun-filled evening. We look forward to seeing kids at the door in costumes, ringing the bell and asking for treats. Although Halloween is exciting time for most of us, it can be a confusing and stressful experience for pets. Follow these tips to ensure your pets – and trick-or-treaters – stay happy and healthy this Halloween:
Treats Should Be Pet-Friendly
Keep all that tempting candy away from your pets. Sugar is no better for our pets than it is for us. Additionally, chocolate can be dangerous, and even fatal, for both dogs and cats. Xylitol (an artificial sweetener) can kill a dog – even in very small amounts.
A special Halloween treat that you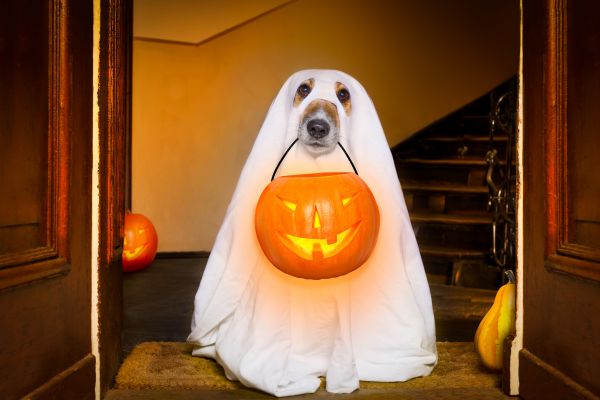 r pet can have is pumpkin! Resist the urge to share the candy and give them some roasted pumpkin instead.
Tricks Can Be Dangerous For Loose Pets
Unfortunately, there are people who do vicious things to animals on Halloween, including injuring, stealing, and killing pets. Keep your pets inside and not in your yard on Halloween night. We recommend that even your outdoor cats be kept inside for a few days before and after the holiday.  Black cats are especially vulnerable, but any pet can be a target.
Keep Pets Away from the Front Door
Consider putting your pet in a room with the door closed and a few toys to keep them occupied on Halloween night. Lots of cute trick-or-treaters means your front door will open often, making it easy for your pet to sneak out and wander off while you're distracted. Additionally, some pets can become anxious with all those weirdly dressed strangers and the doorbell constantly ringing. A few hours in a secure room can keep them safe and happy, and you from worry.
In the event your pet does get out, make sure you've made it easy for someone to identify them and contact you. They should wear a collar with current ID tags and be micro chipped.
Watch for Fire Hazards
While pumpkin is a tasty treat, a lighted jack-o'-lantern is a safety hazard. Pets can get excited and easily knock it over and start a fire. Kittens and cats can be particularly curious about new decorations and get burned or singed by open flames.
Some Pets Don't Like Costumes
If you want to dress up your dog or cat, make sure they don't mind wearing a costume. Let them wear it for short durations for a few days leading up to Halloween so they get used to it. Never dress your pet in anything flammable or with any pieces that could be easily chewed off. Make sure the costume doesn't constrict your pet's ability to see, breathe, bark, meow, hear, or move.